Create visual calls-to-action in your emails, custom messages, and About Us section
How do I create a simple button?
The simple button is available in the email editor, custom messaging feature, and About Us section toolbar. To create a simple button, click on the icon labeled "OK."

The button editor will pop up on your screen. Enter your button label (the text that appears on the button) and the URL where the button will navigate.

Choose the font size, button height and width, and the border radius. The higher the border radius, the rounder your button will appear. Select a button color.
You will see a live preview of your button as you make changes in the button editor.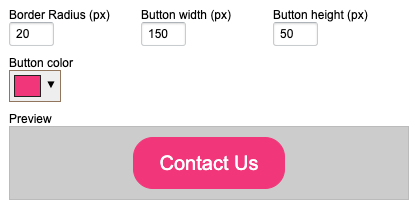 When you're done, click OK to save your changes and exit the button editor.
To change the text style, highlight the button text and use the menu options to change the font, boldness, and other available text style options.

Make sure to save any changes to your email template, About Us section, and/or custom message before proceeding.
Need to get back into the button editor? Click on your button, then on the OK icon in your toolbar menu.
What are some ideas for using simple buttons?
Contact Us
The most popular use of the simple button is to encourage a lead to contact you with the simple click of a button. Here are a few ways to configure this option:
Have the button click navigate to an external form hosted on your website or another application
Have the button click open up a new window in your lead's email client
Have the button link to a contact page on your website or blog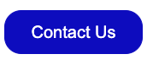 Meeting Invitation
If you use an application that allows leads to book a meeting with you through your calendar, create a button that navigates to your calendar link.

Claim Promotion
Use a simple button to make your limited-time-offer stand out.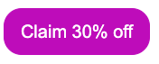 Guide leads to a page on your website
Since you are segmenting your audience by interest or industry, take this opportunity to help leads continue their solution research on your website.

The buttons are looking weird when I open the email in my inbox. What can I do?
Unfortunately, simple buttons sometimes don't appear as expected due to your email client settings. If you find that your buttons aren't looking quite right in your inbox, here are two alternative solutions:
Create your button, then capture a screenshot of the button. Add this screenshot into your email/custom message/About Us as an image. Hyperlink the image to your desired destination.
Instead of creating a button, simply add a hyperlink to a word or phrase in your copy.