Improve your email open rate by adding engaging preview text to your email templates
What is preview text?
Email preview text is a snippet of copy that works to engage your reader and encourage them to open and read your email. Preview text usually does not appear in the body of your email, but shows in the recipient's inbox next to the email subject line.

Why should I bother with preview text?
When paired with an optimized subject line, including curated email preview text can improve your email open and click rates. Preview text offers you an additional opportunity to grab your audience's attention and create a sense of urgency.
Here's how to add preview text to your emails (it's easy!):
Click into one of your selected content channels, and select any Email This item.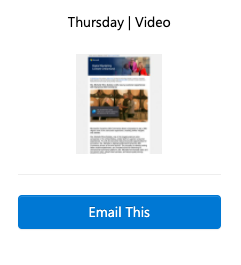 Above the subject line field, you will see a box labeled "Email Preview Text." Enter your desired preview text here. Select your test network, and click "Post." Click confirm to send the email.

Check your inbox for the email. Notice that the preview text appears immediately after the subject line.