Logging in, resetting your password, and troubleshooting common login errors.
Logging in
Use the unique username that you created during sign-up to log into your account. When you sign up, you're automatically sent your username and a temporary password from "partneron@contentmx.com."
Note that the email address sending the temporary password might vary depending on your program.
Single Sign-On (SSO) options
You can log in using your Microsoft, Google, Facebook, or LinkedIn credentials. When you use our LinkedIn SSO option, your token is refreshed every time you log into your PartnerOn account. This keeps your LinkedIn account connected so you can continue sharing content without needing to reconnect after a set number of weeks.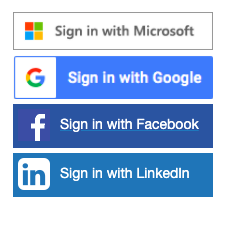 To create a SSO connection:
Click on the icon for Microsoft, Google, Facebook, or LinkedIn SSO
Sign into your Microsoft, Google, Facebook, or LinkedIn account to create the SSO connection
Enter your PartnerOn credentials to finish the connection
Next time you log in, click on the Microsoft, Google, Facebook, or LinkedIn SSO to access your dashboard.
To clear (delete) your SSO connection:
Log in and go to My Account.
Scroll down the page to find the SSO connection you would like to delete.
Click "Clear Connection to _______"

Resetting your password
You can reset your password from the login page by clicking Forgot Your Password?
You will be prompted to enter your email address or username into the box. Once you click "Send Temporary Password," check your email inbox for an email from support@contentmx.com containing your temporary password.
FAQs and Troubleshooting
I'm entering my email address in the username box. Why can't I log in successfully?
Currently, our system does not recognize email addresses in place of usernames. Try logging in using your unique username. Usernames and passwords are case sensitive.
I didn't receive my temporary password email.
Temporary password emails can sometimes end up in your spam or promotions folders. Please search for an email from support@contentmx.com.
Add support@contentmx.com and partneron@contentmx.com to your email address book, then try resetting your password again.
If you still do not receive your temporary password email, please contact our Support Team.