View your Social Marketing Qualified Leads by navigating to your Social MQLs Report.
These Leads are individuals who have reacted, commented, or shared your content across social media platforms. By gathering data on those who are reacting to your posts the most, you can identify the type of content that resonates with your audience. Be sure to click through to their online profile to gain insights on your prospects and customers.
---
Step 1: Navigate to the "Social MQLs" Report under the "Reports" drop-down menu in your navigation bar.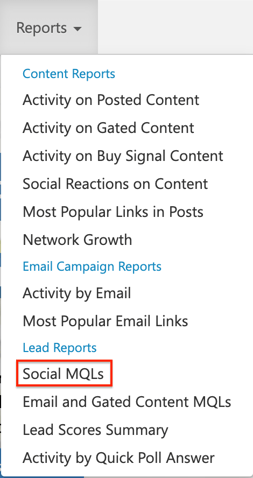 Step 2: View your Social MQLs. Check which individuals or companies have reacted to your posts, and see the number of reactions each MQL has provided. The report sorts the MQLs based on the most reactions at the top, and the least reactions at the bottom.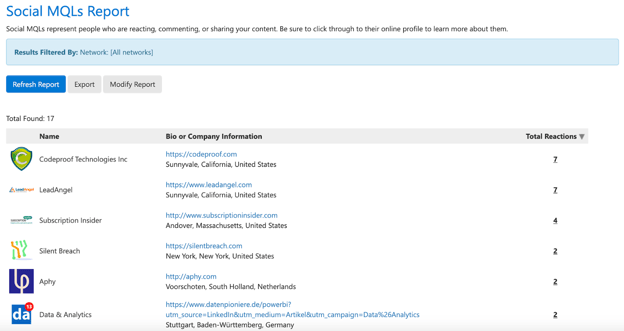 Note: You have the ability to modify this report by clicking the "Modify Report" button. You can filter by date and social media network. Then, click "Run Report" to view the data. You can also choose to export this report to a CSV file by clicking "Export".

Step 3: To view an individual or company's LinkedIn or Twitter profile, click on their name. Likes from a company page will include a link to their website in their profile. You can click the website link to access it from the platform.

Step 4: To check which assets your audience is interested in, click on the "Total Reactions" number located to the right of the individual or company name. This will expand the report to show each asset that has received a reaction. You will also see the type of reaction the asset has received: like, love, applause, etc.

---
Your Weekly MQL Report
You can view your top Social MQLs through your Weekly MQL Report which you receive via email every Sunday evening. To enable this report, please follow the steps below.
Step 1: On your dashboard, click on the gear icon in the upper right-hand corner of the menu bar, and then click on "My Account".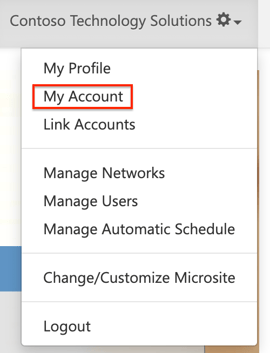 Step 2: Under "My Account", scroll down to the "Account Preferences" section. You will see "Send Weekly MQL Report?" Choose "Yes" or "No" from the drop-down menu to enable or disable this report.

Your Top Social MQLs will appear in the first column of this report. If you would like to open your Social MQLs Report in the platform, you can click on "Open Report" at the bottom of the "Top Social MQLs" section. You can also view your Top Email MQLs and your Level 4 MQLs by clicking "Open Report" under those specific categories.
Note: You can also click on the individual or company name inside your Weekly MQL Report under the "Top Social MQLs" section to be brought directly to your prospects' LinkedIn or Twitter Profile.
If you have any questions or feedback, please contact support@contentmx.com or Submit a Ticket.